O. James Samson - February 4, 2013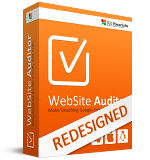 Need an outstanding on-page SEO application? Get WebSite Auditor  Enterprise.
What is the big deal about this program?
This is a choice utility that helps to optimize your website so as to guarantee a permanent top 10 search engine ranking. It is a two-in-one SEO tool: it deals with (1) on-page audit and (2) content optimization. This shareware runs an in-depth analysis of your site's structure and display all the structural flaws that may curb your site's rankings in plain view. It helps you locate and fix such problems as: broken links, HTML code errors, Missing meta data, and Duplicate content, and others.
This program allows you to run a complete SEO site audit, create business-specific optimization strategies for site's structure and content, push up as many websites as you need, and communicate with your clients using the means they choose. It ensures that every word, HTML tag or link on one page is contributing to the success of all important pages of a site while brushing up keywords in the content.
This software gives a full outline of each winnable on-page optimization step, from techniques that pay back within weeks to quick revisions that transform a website's sales literally in the same day.
Any downsides?
None yet. This is a very powerful SEO tool.
To know more about this program, please visit Link-Assistant.
This entry was posted on Monday, February 4th, 2013 at 1:44 am and is filed under Main. You can follow any responses to this entry through the RSS 2.0 feed. You can skip to the end and leave a response. Pinging is currently not allowed.