O. James Samson - February 27, 2013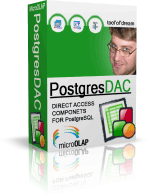 Are you looking for a shareware that is not only affordable, but designed with some of the latest and easy to use features for Delphi/C++Builder and PostgreSQL 7.X? PostgresDAC might just be your choice of application. It allows you to create Delphi/C++Builder applications with direct access to PostgreSQL/Pervasive Postgres DB without BDE and ODBC.
What is PostgresDAC?
PostgresDAC is a PostgreSQL BDE replacement for Delphi 4-6 and BCB5 applications with direct access to PostgreSQL DB without BDE and ODBC. This components set was developed for easy migration of existing projects from BDE/ODBC scheme to the native one. Interface is BDE-like and TDataSet compatible. Included for free is TDBImageEx component for JPEG images in BLOBs support.
This is a maintenance release that contains the latest client library, several bug fixes and improvements. System requirement for installation include Delphi 5 or C++Builder 5 and higher; PostgreSQL 7.4 and higher.
PostgresDAC is packed with some powerful features that include the following: royalty-free; Delphi 5-7, ++Builder 5-6, Borland Developer Studio 2005-2006 Win32 edition support; full compatibility with all the existing data-aware controls and report designers; full support of the BLOB fields; TNT Unicode Controls Wrappers package for Unicode applications for free (with sources); detailed help system and a lot of demo applications; and many more.
Downside
Free only for a limited period.
Want to check it out? Visit Microolap.
This entry was posted on Wednesday, February 27th, 2013 at 12:42 pm and is filed under Main. You can follow any responses to this entry through the RSS 2.0 feed. You can skip to the end and leave a response. Pinging is currently not allowed.