O. James Samson - April 1, 2013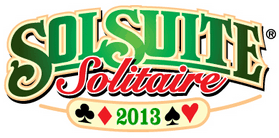 Are you a big fan of solitaire? What if you were to get all your favorite games – over 500 of them-in one application? Here is what you get when you install the SolSuite.
What is SolSuite?
It is a collection of about 500 high quality solitaire games that you may not get elsewhere – Spider, Klondike, FreeCell, Pyramid, Golf, Busy Aces, Canfield, Gaps, Forty Thieves, Four Seasons, Carpet, Flower Garden, Rouge et Noir, Yukon, La Belle Lucie, Monte Carlo Foxtrot, and many others! Because the authors have you in mind, they have also created several other solitaires that are fun such as King of Scotland, Foxtrot, Mayflower and many others!
This application gives its users an exciting gaming experience with several hundreds of games to choose from, an amazing selection of card faces & backs, large card sets for ease of viewing, ribbon interface for enhanced game play, skins to customize your playing area and fast, courteous support. SolSuite: it's addictively fun!
Some of the features of this exciting program include: over 500 of the world's best solitaire games, over 80 awesome cards, more than 300 beautiful card backs, more than 100 backgrounds and lots of advanced features, options and stats.
Downsides?
One of the best solitaire suite around, be sure to check it out at Solsuite.
This entry was posted on Monday, April 1st, 2013 at 6:32 am and is filed under Games, Main. You can follow any responses to this entry through the RSS 2.0 feed. You can skip to the end and leave a response. Pinging is currently not allowed.