O. James Samson - April 26, 2013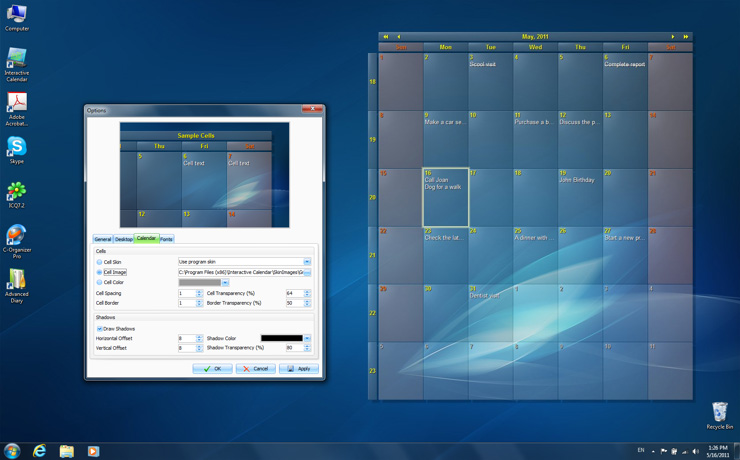 Did you know you can download an application that can be easily customized just to make your desktop look even more beautiful and attractive? That's one of the features of Interactive Calendar.
What's Interactive Calendar?
Interactive Calendar is a freeware program that has a lot of features. The program can be customized, which makes it very easy to use. This application also renders the calendar grid right on the wallpaper, which is a clear departure from how other competing programs are built. This departure allows it to be extremely fast when it comes to updates, and seamless integration of your Windows theme.
Another benefit of Interactive Calendar is the degree of visual customization it supports. You can control virtually every aspect of the calendar's appearance including the following: position on the screen; colour; opacity; and a couple of others. You can also use dozens of skins that come with the program or simply load your own images to serve as background for the calendar.
Interactive Calendar supports three different interactive variations that allow it to blend perfectly with any Windows theme. Also, the program features several views, and allows you to easily create and manage tasks, specifying their duration, order, start, end days, description and other parameters.
Task description supports RTF formatting; thereby allowing you to easily create properly formatted and well structured Word-like documents, if necessary
Any downsides?
Interactive Calendar is a nice addition to your desktop; and doesn't look like a program that has any issue. Moreover a couple of bugs noticed in previous versions have been taken care of in this update.
Want to check it out? Visit Csoftlab.
This entry was posted on Friday, April 26th, 2013 at 8:05 am and is filed under Main. You can follow any responses to this entry through the RSS 2.0 feed. You can skip to the end and leave a response. Pinging is currently not allowed.