O. James Samson - May 25, 2013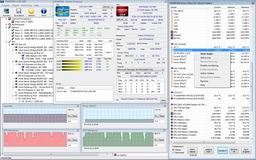 Surely you won't mind installing an application that gives you loads of info on the health status of your computer in order to avoid crashes or any problem? The great news is that there are quite a lot of applications out there that can keep you informed of happenings within your computer. One of such applications is HWiNFO32; a program with all the advanced features you need.
What's HWinFO32?
HWiNFO32 (Hardware Information) is a professional hardware information and diagnostic tool that supports latest components, industry technologies, and standards. It is targeted to recognize and extract the most possible amount of information about computer's hardware, which makes it suitable for users searching for driver updates, computer manufacturers, system integrators and technical experts. Retrieved information is presented in a logical and easily understandable form and can be exported into several types of reports. Also available are system health monitoring and basic benchmarking available.
Based on certain bugs noticed in previous version of HWiNFO32, the publisher has introduced a few changes and updates such as; support of CHL8203, CHL8212, and CHL8213 on GPU, addition of preliminary support ITE 1T8732, separated reporting of GPU codename, improved Intel Haswell support, improved AMD Kabini support, and fixing of reporting of CPU Power/Current on certain CHL controllers.
Want to check it out? Visit hwinfo.com.
This entry was posted on Saturday, May 25th, 2013 at 9:15 pm and is filed under Main. You can follow any responses to this entry through the RSS 2.0 feed. You can skip to the end and leave a response. Pinging is currently not allowed.