O. James Samson - September 26, 2013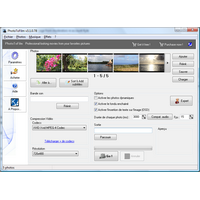 Are you looking for an application that will help you make those small movies you have always desired or dreamed of? Do you want to make small movies out of your pictures compress them in order to distribute your production to your friends and family? Then PhotoToFilm is an application for you.
What is PhotoToFilm?
PhotoToFilm is a user friendly solution for anyone who wants to easily make a movie out of digital pictures. Such film can be easily sent to friends or relative. The application is designed for every lover of digital camera. It combines a lot of outstanding and easy to use features that enable you do a lot of things.
The program has a lot of amazing features including the following: user friendly interface; makes transitions (such as cross fading) between your photos; features dynamic images support; sound track (MP3) support; supports most popular photos formats (JPEG, Bitmaps); on Video dynamic text insertion; creates movies using codecs present on your computer (such as DivX); Ability to burn DVDs (requires ToDVD); International support' and a host of others.
PhotoToFilm is not a bad program especially when you consider its ease of use. The free version does not have the kind of features you will find in this full version of PhotoToFilm.
Want to check it out? Visit KCSoftwares
This entry was posted on Thursday, September 26th, 2013 at 5:19 pm and is filed under Main. You can follow any responses to this entry through the RSS 2.0 feed. You can skip to the end and leave a response. Pinging is currently not allowed.