O. James Samson - October 28, 2013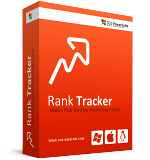 Are you finding it too difficult to search for the right keywords to take your business to the next level on the internet? Online success is mostly about not just attracting the right traffic; but also attracting the right kinds of traffic. With Rank Tracker, you can even track how good your search engine tracking is doing.
What's Rank Tracker?
Rank Tracker is an SEO tool that can check major search engines for all your keywords at once. Moreover, it allows you to track the progress of your search engine rankings over time.
Rank Tracker allows you to spend only few minutes of your time online on things that are important because it helps you to do a lot of things. Some of the features in this SEO program include the following: automatically checks your search engine rankings; display the ranking difference so you can easily see if your site has moved up, or if it has slipped for whatever reason; suggests a wide-range of a powerful "Suggest Keywords" feature that allows you to grab traffic-generating keywords using Wordtracker, Google Suggest, your competitor's websites, and many other methods; multiple language support; tips you how many times a keyword has been actually searched by real people over the last month, plus how stiff the competition for this keyword is; and many more.
Want to check it out? Visit Link-Assistant.com.
This entry was posted on Monday, October 28th, 2013 at 11:34 am and is filed under Main. You can follow any responses to this entry through the RSS 2.0 feed. You can skip to the end and leave a response. Pinging is currently not allowed.