O. James Samson - October 28, 2013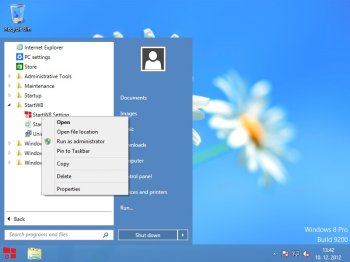 Are you looking for a powerful application that changes the looks of your computer desktop? Well, StartW8 might just be the application or tool you need to get Start menu back in your Windows 8.
What's StartW8?
StartW8 is a free but powerful tool for Windows 8 users. Do you prefer desktop to modern UI? Would you like to logon directly to desktop? Do you want to use Start menu for running your apps? Then it's right for you. Get Start menu back in Windows 8!
Start menu had been an essential feature of Microsoft Windows for almost two decades, used by countless users all over the world. But Windows 8 and Windows Server 2012 are shipped without it.
A couple of fixes have been made to this version of the program, and they include the following; solved the problem with inability to uninstall older version StartW8 after updating from Windows 8.0 to Windows 8.1, and fixed bug with DPI resolution.
StartW8 also retains some of its old features including the following: fully supported Windows 8.1; respects the Windows 8.1 OS configuration for "boot to desktop"; overrides the start button on Windows 8.1; added option to customizing the user image to the start menu; and improved method of calculating position of the start menu.
StartW8 is more stable now since a lot of fixes have been made to this version in review.
Want to check it out? Visit AreaGuard.
This entry was posted on Monday, October 28th, 2013 at 3:26 pm and is filed under Main. You can follow any responses to this entry through the RSS 2.0 feed. You can skip to the end and leave a response. Pinging is currently not allowed.