O. James Samson - November 27, 2013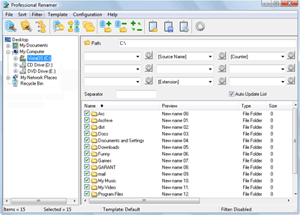 Are you looking for a professional renamer that has all the features to help you rename multiple files in one go? Then what you need is Professional Renamer because it has a lot of very nice features that cab be of real help to you.
What's Professional Renamer?
Professional Renamer is a powerful tool to rename multiple filenames at once. It is designed to be very flexible and user friendly. Its features make it ideal for MP3 collectors, digital camera users, programmers, system administrators, or file collectors of any kind. Windows 7 users should make sure to run Professional Renamer with administrative rights. Otherwise, it will pop up several errors along the way.
Professional Renamer is a useful and powerful tool that can rename multiple files. Its user friendly and intuitive interface allows you to rename files easily. Unique visual templates system will helpfully assist you in renaming. All changes on new name immediately show in the file list.
As soon as you locate and select files, you can configure filters for the renaming process. You can edit the source name by removing symbols, finding and replacing text, as well as by changing the text's format.
Want to check it out? Visit Miklsoft.com.
This entry was posted on Wednesday, November 27th, 2013 at 11:11 am and is filed under Main. You can follow any responses to this entry through the RSS 2.0 feed. You can skip to the end and leave a response. Pinging is currently not allowed.