O. James Samson - November 29, 2013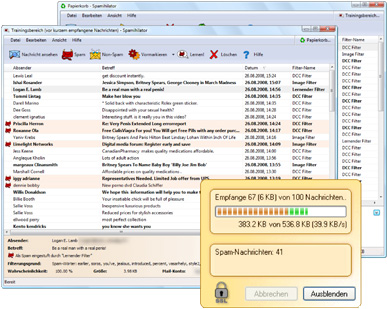 Most of the time we receive some emails that fall far short of our expectations. Spam emails have become serious issues for most people, and some email accounts with spam filter features have not sufficiently dealt with the situation. That is why a program like Spamihilator is worth a look.
What's Spamihilator?
Spamihilator examines your Emails while downloading from the server and deletes unwanted advertising messages. It works between your Email-Client-Software and the Internet. Every time you receive messages, they will be checked. Useless spam mails will be filtered out. This process works completely in the background. It runs with almost every Email-Software such as Outlook 2000/XP/Express, Eudora, Pegasus Mail, Phoenix Mail, Opera, Mozilla, Netscape, etc.
The software works between your email client and the Internet in order to examine every message that comes in. Useless and unsolicited spam mails will be filtered out. In the background, the program is able to work to snuff life out of any unwanted email. Spamihilator uses a number of different filters in order to achieve the highest spam recognition rate possible. The program is highly configurable and can be extended by plugins.
Some of the key features of Spamihilator include the following; able to filter important mails from spam, saves all recognized spam mail to the Spamihilator recycle bin, able to process the widely used mail protocols POP3 and IMAP, etc.
Nice tool that helps you quite a bit in a fight against spam messages and emails.
Want to check it out? Visit Spamihilator.
This entry was posted on Friday, November 29th, 2013 at 10:57 pm and is filed under Main. You can follow any responses to this entry through the RSS 2.0 feed. You can skip to the end and leave a response. Pinging is currently not allowed.