O. James Samson - December 30, 2013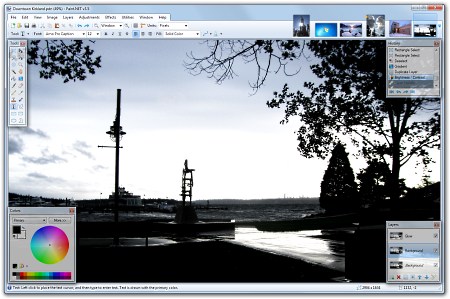 Do you want a photo manipulation program that is designed to help you do a lot of things with your photos? Then you should read this review on Paint.NET because it has a lot to help you out.
What's Paint.NET?
Paint.NET is image and photo manipulation software designed to be used on computers that run Windows. It supports layers, unlimited undo, special effects, and a wide variety of useful and powerful tools. Originally intended as a free replacement for the MS Paint software that comes with Windows, Paint.NET has grown into a powerful yet simple tool for photo and image editing. The programming language used to create Paint.NET is C#, with a small amount of C++ for installation and shell-integration related functionality.
Recently, a couple of changes have been made to Paint.NET to make it more stable than it used to be. Some of these changes include the following: added Bezier curve to the Shapes tool; Line/Curve shapes weren't working with the rounded line cap styles; fixed the selection tools not always showing the selection measurement info in the status bar; fixed: If you change the resolution from Image->Resolution, the selection measurement info in the status bar will now update; etc.
Want to check it out? Visit GetPaint.
This entry was posted on Monday, December 30th, 2013 at 7:31 am and is filed under Main. You can follow any responses to this entry through the RSS 2.0 feed. You can skip to the end and leave a response. Pinging is currently not allowed.