O. James Samson - February 27, 2014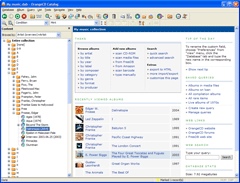 Do you want to listen to audio CDs through your computer CD-ROM and audio card? Then this is one review you shouldn't ignore because it you have a lot to learn about a program known as OrangeCD Player.
What's the big deal about OrangeCD Player?
OrangeCD Player is a compact freeware program that allows you to listen to audio CDs through your computer CD-ROM and audio card. The player supports FreeDB album lookup and integrates with the music catalogue software, so every time you play a new album it downloads track titles and other information from Internet and automatically catalogues the album in your music database.
Some other features of OrangeCD Player include various playback modes, play lists, direct track access and smart disc position memory. Now, if you restart your computer frequently, you don't have to remember the last song that was played. You can create web pages with the list of all your albums and upload them to your website. The feel and look of the web pages is defined by templates and can be customized even if you know nothing about HTML language. OrangeCD Player has a friendly, intuitive and customizable user interface.
 Any downside?
The program has a 30 day trial limitation. Full version costs a bit too much – $34.95.
Want to check it out? Visit Firetongue.com.
This entry was posted on Thursday, February 27th, 2014 at 3:40 pm and is filed under Main. You can follow any responses to this entry through the RSS 2.0 feed. You can skip to the end and leave a response. Pinging is currently not allowed.