O. James Samson - February 27, 2014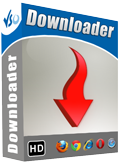 Do you want to download videos from thousands of websites with little or no stress? Do you want to use an application that cal also automatically detect and download streaming contents? Then what you need is an application known as VSO Downloader.
What's VSO Downloader all about?
VSO Downloader allows you to download videos and music from thousands of sites. Streaming content is automatically detected and downloaded. The download engine is optimized for fast download speeds and is resource friendly. VSO Downloader works independently from web browsers, so therefore it works with all of them, Internet Explorer, Firefox, Chrome, Opera, and more. Files can be automatically converted to various formats including, .mp3, .avi, xvid, mp4 for iPhones and iPads. Some of the special features included are: pausing function and auto resume of download, smart file names and a ad blocker included.
VSO Downloader enables you to enjoy video download just as you have always wanted; and some of these are at no cost because the application is available for free download. Besides, VSO Downloader also converts video files to various formats automatically after download.
Want to check it out? Visit Vso-Software.fr.
This entry was posted on Thursday, February 27th, 2014 at 11:42 pm and is filed under Main. You can follow any responses to this entry through the RSS 2.0 feed. You can skip to the end and leave a response. Pinging is currently not allowed.