O. James Samson - April 29, 2014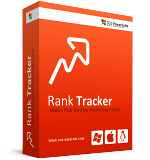 There are quite a number of tools and programs that SEO companies and individuals will find very useful. Getting or being able to use the right tool will enable you access your progress in terms of ranking, and that is what a program like Rank Tracker Enterprise is all about.
Rank Tracker Enterprise is not only a fast and accurate rank monitoring tool, it's also a powerful keyword research software and an indispensable reporting tool for SEO companies. This version in review has a few updates that include the following: retrieving data from mobile SEs improved; new (Not provided) keyword traffic calculations; and Chromium browser got updated to the latest version and now supports Java 8.
The interface of Rank Tracker Enterprise is clean and intuitive. To create a new rankings monitoring project, you can use a wizard to specify the URL to check, choose the preferred search engine, as well as enter the target keywords.
Rank Tracker Enterprise is light on the system resources, and only uses a minimal amount of CPU and RAM. It has a good response time and works smoothly, without causing the OS to hang, crash or pop up error dialogs. All in all, Rank Tracker proves to be reliable for monitoring search engine rankings, a must-have application for any SEO master.
Any downside?
Save function is disabled in the demo version so get ready to spend $124.75 for a Pro version. Another thing you might be worried with this software is the fact that as search engines evolve SEO tricks have to be modified as well, so the guarantee for the best possible result is quite thin.
Want to check it out? Visit Link-Assistant.com.
This entry was posted on Tuesday, April 29th, 2014 at 12:16 am and is filed under Main. You can follow any responses to this entry through the RSS 2.0 feed. You can skip to the end and leave a response. Pinging is currently not allowed.