O. James Samson - June 27, 2014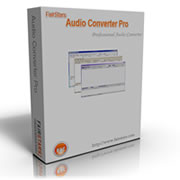 Are you considering or looking for an easy to use audio converter that has a lot of features that can help you convert a lot of files? Then you should consider a program like FairStars Audio Converter. The program has a lot of features.
What's the big deal about FairStars Audio Converter?
FairStars Audio Converter Pro is a professional audio file conversion tool to convert WAV, RealMedia(RM, RA, RAM, RMJ, RMVB), AIF, AIFF, AIFC, AU, Creative VOC, PVF, PAF, SVX, IFF, APE, FLAC, OGG, VQF, MP1, MP2, MP3, MP4, M4A, M4B, AAC, AMR, AWB, WMA, WMV, ASF to the popular formats – WMA, MP3, AAC, M4A, AMR, AWB, VQF, OGG, FLAC, APE and WAV formats.
FairStars Audio Converter is built with a lot of features including the following: Batch audio files conversion (lets you convert many files in one batch regardless of their source formats); batch output Tag settings, and also support ID3 tags display and edit; easy-to-use user-friendly interface, and skin support; Automatic extracting Audio CD Image (Audio File + CUE) to audio files which contained individual audio track; Support Drag and Drop: supports dragging and dropping files or folders from the File Explorer into the window of the converter; and many more.
Does it have any downside?
The trial version of the program has a 180 seconds file length limitation. Single full license goes for $34.95.
Want to check it out? Visit FairStars.com.
This entry was posted on Friday, June 27th, 2014 at 8:00 am and is filed under Main. You can follow any responses to this entry through the RSS 2.0 feed. You can skip to the end and leave a response. Pinging is currently not allowed.