O. James Samson - June 28, 2014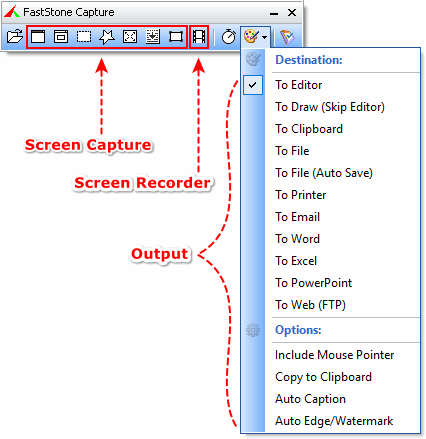 Did you know that there are several programs that you can use when it comes to taking snapshots, record screen, and view edit images? However, there are some with features that are easy to use, and do not take much time to understand. FastStone is one of such programs that have a lot of features and are easy to use.
FastStone Capture is powerful, flexible and intuitive screen capture utility that allows you to capture anything on the screen including windows, objects, full screen, rectangle regions, freehand-selected regions and scrolling windows/web-pages.
The interface of the FastStone Capture is based on a small toolbar from which you can capture the active window, window or object, rectangular or freehand region, full screen, scrolling window or fixed region.
When it comes to recording the screen, you can set the recording area to window or object, rectangular region or full screen (optionally without the taskbar).
Additionally you can configure settings when it comes to video (e.g. set the frame rate, enable compact mode); audio (record audio and mouse click sounds), the hotkey (to stop the recording) and output files (e.g. set the file name template). You can also set FastStone Capture to copy the output image to the editor, clipboard, file, printer, email, Word, PowerPoint or FTP, as well as enable auto caption, auto edge or watermark and to include the mouse pointer.
Trial version of the software has an annoying nag screen and is also limited to 30 days for new users. Full version is worth $19.95.
Want to check it out? Visit FastStone.org.
This entry was posted on Saturday, June 28th, 2014 at 4:04 am and is filed under Main. You can follow any responses to this entry through the RSS 2.0 feed. You can skip to the end and leave a response. Pinging is currently not allowed.