O. James Samson - October 29, 2015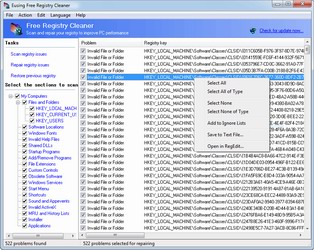 The speed of your PC starts slowing down the older it becomes. This is caused by some clogs in the registry that have been left for a long time, that is why it is recommended that you clean up your registry once in a while. Eusing Free Registry Cleaner is a freeware that is easy to use.
What is Eusing Free Registry Cleaner?
Eusing Free Registry Cleaner is a program built with features to help you scan your Windows registry for invalid or obsolete information and provide a list of errors found. After fixing the invalid entries, your system will be able to work faster and be more stable. The software will also backup the repaired entries. Changes made can also be restored by using the Eusing Free Registry Cleaner's Restore registry backup.
The current version of Eusing Free Registry Cleaner now supports Windows 10, while the publisher has also fixed the bug for the App Store.
Eusing Free Registry Cleaner can deal with some registry issues on your system. It is also suitable to all new users who want a program that has some easy features. However, users might want to try out some other programs with advance features.
Want to check it out? Visit Eusing.com.
This entry was posted on Thursday, October 29th, 2015 at 3:04 pm and is filed under Main. You can follow any responses to this entry through the RSS 2.0 feed. You can skip to the end and leave a response. Pinging is currently not allowed.