Ciaran Moore - May 17, 2016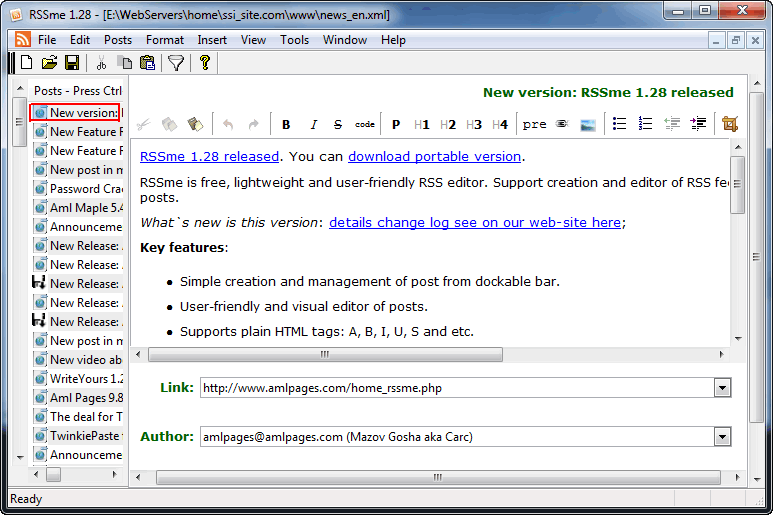 Meet RSSme. This software is especially created for gathering unique RSS feeds. Getting up-to-date information is made incredibly easy, thanks to this software, you can extract the data from your preferred websites without even opening them, using a RSS reader that takes out the content from your chosen sites. RSSme is also a great editor, that gives you the possibility to make all kinds of changes. All kinds of content are created incredibly easy thanks to the application.
The software has a user-friendly interface and incredibly easy to work with editor. It supports plain HTML tags and immediate preview of your code on HTML. You can insert images and manage your posts with great ease. Using the software on multiple computers can be done fast, given the fact that the application is portable. You can add the content you've gathered in Rich Text format to make it visually appealing. The editor gave us the options to cut,paste,copy,delete and to include titles,headings,categories, links and information for authors. The WYSIWYG mode that the application offers makes it easy to insert photos in RSS posts.
All feeds that you have can be managed without any problems. They can be sorted by dates, titles and positions. Everything can be organized the way you want! Saving your details can be done in XML format and printing it is also possible. All in all, it's an intuitive, reliable, fast, easy, editor for all who have even slight computer skills.
Check out the homepage at Amlpages.
This entry was posted on Tuesday, May 17th, 2016 at 9:44 am and is filed under Main. You can follow any responses to this entry through the RSS 2.0 feed. You can skip to the end and leave a response. Pinging is currently not allowed.