O. James Samson - August 17, 2016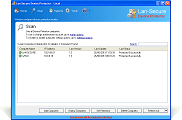 Protecting your devices within a network is extremely important if you work in an organization. Modems, portable mobile phones, printers, removable disks, and many more are among vital devices that must be protected at all times within a network; and this calls for a unique software that offers security. Lan-Secure Device Protector is a program that can protect the aforementioned devices within a network.
Lan-Secure Device Protector is Data Loss Prevention (DLP) and endpoint device control security software that enforce device protection policies on organization computers. The software support Windows operating systems and can protect the following devices: Bluetooth, DVD/CD-ROM, Firewire, Floppy, Imaging, Infrared, Microphones, Modems, Portable Mobile Phones, Ports, Printers, Removable Disks, Sound, Tape Drives Wireless 802.11 and Broadband devices. The Enterprise version: Endpoint device control and Data Loss Prevention (DLP) security software for enforcing device protection policies supporting unlimited network computers.
Lan-Secure Device Protector is designed to collect activity logging with optional actions on the protected endpoint devices that helps you to track and maintain the organization endpoint security and data loss prevention.
Lan-Secure Device Protector has a 30-day trial limitation. Full version starts from $99.00 (depending on the number of working PC's).
Want to check it out? Visit LAN-Secure
This entry was posted on Wednesday, August 17th, 2016 at 9:23 am and is filed under Main. You can follow any responses to this entry through the RSS 2.0 feed. You can skip to the end and leave a response. Pinging is currently not allowed.