Thursday, June 25th, 2009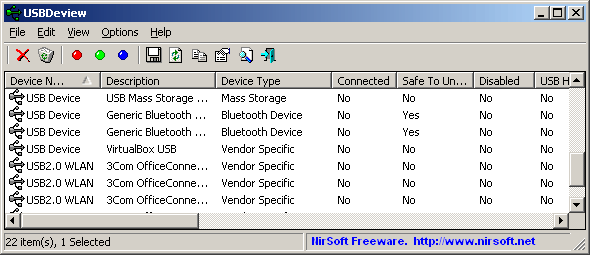 Chances are, you have at least a couple of USB devices connected to your computer at times. It's a given nowadays to have flash drives, portable hard discs, printers,MP3 players, and other devices regularly connecting through USB ports; So chances are,you've likely got rather a few by now. Would you like to know how many, and be able to keep track of what they're doing?
USBDeview is a program for maintaining a watch over everything USB on your computer. It doesn't just report on USB devices currently attached — device name, type of device, connection status — it also keeps a database of things previously connected too. Do you want to uninstall a device? This program can help you out. How about disconnecting something currently connected? It can help you do that too. You'll even be able to keep track of USB devices connected to a remote machine too! assuming you're logged-on as an Administrator.
What's more, its freeware, so if you wanna take it for a test ride and you enjoy it, it's yours to keep.