Monday, September 17th, 2007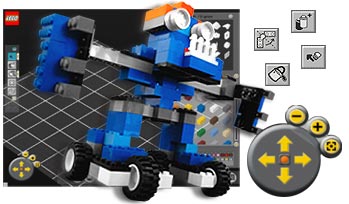 Did you play with LEGO when you were a kid?  I certainly did and one of the things that I absolutely loved about playing with LEGO was the ability to envision a completely different world from the one I lived in.   In other words, the ability to create things like dragons and wizards and play with them all day long was what kept me interested in LEGO time after time and one of the reasons that LEGO continues to be popular is because there is that element of escapism to it; it is able to keep young minds enthralled.
Well, now LEGO has become digital with the designers of the great building block toy now releasing a version that is completely free to use for people that want to give LEGO design a try online.   It is a very fun piece of software to use and people both young and old can use it to construct any number of different things.  Because the software is still early on in the development stage there are some kinks in the software, but ultimately as the software gets better it is going to come very close to simulating the real world experience.
More information about this software can be found at http://ldd.lego.com/