Saturday, January 5th, 2008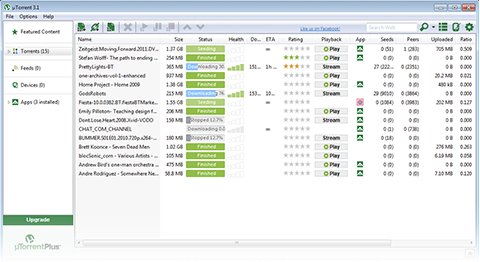 There are a number of different excellent programs available as torrent clients, but the uTorrent software has been acknowledged for a very long time as being one of the best out there. With the latest release of the software coming out on January 3rd, what people are finding is that one of the best in the business just happened to get better. Every piece of freeware is continually working to remove kinks from the software as they develop and a number of minor bugs have been fixed in this latest version of uTorrent whilst keeping the essential core of the software exactly the same as it has been in previous versions.
You can use the uTorrent software to open any of the torrent files that you might want to download from the various websites and then you can also use it to track multiple downloads at the exact same time. Not only can you track the progress of a general download, but you can also track specifics about that download to the point where you know which packets and files within the torrent have been downloaded at which times.   This actually allows you to only download specific parts of the torrent file and therefore lessen the size of the download and ultimately speed up the download process.
More information about this program is available at http://utorrent.com/.