Thursday, August 6th, 2015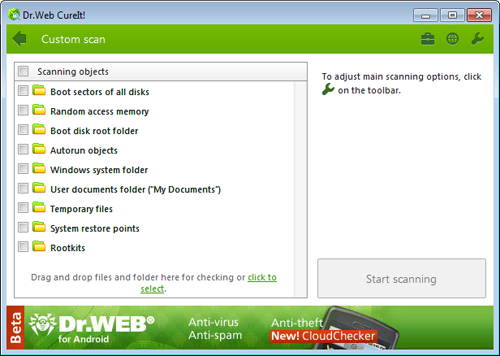 DrWeb CureIt is a portable and free version of the commercial antivirus product from DrWeb antivirus.
This programs is presented as a single executable file which fully self extracts into the Windows temporary directory when you double click it and launches itself. The virus definitions are included in the package, so there is no need to be connected to the internet once you have downloaded it. There isn't any option to update the virus definitions from within the program, so if you want to make sure you have the latest definitions, it's important you download the latest version from the DrWeb website. The program will also prompt you do this, when it notices that your version is a bit old, it will tell you how old it is and suggest you download the latest version.
Upon launching the program, you'll see a small nag screen, nothing too inconvenient, and also the choice to choose it's interface language (it tries to begin with one that fits your windows regional settings, but there are also 30 languages available).
Next, it starts "Express Scan" which scans through your computer's memory and a few usual places viruses like to put themselves. There is also the option to manually choose what you want to scan and also a complete scan that scans everything on your computer.
This is a good option if you find that your computer has a virus or malware and you were unfortunate enough to not have working antivirus software already for whatever reason. It doesn't need to be installed, so can be up and running quickly and easily to help get your computer back on track. It is very easy to use, even for non technical users, as it keeps the options very basic as mentioned above.
Check it out at DRWeb.com.