O. James Samson - September 30, 2008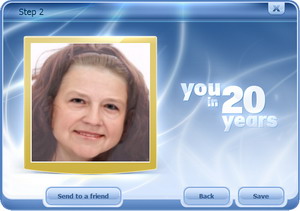 This is an application that will reveal how you will look in years to come. Prophecy master will show you how you will look in 20 years by just aging your face. This new product will fast forward your years in just seconds and reveal your future look. All you need to achieve this is a picture that carries your face or a single head shot. Open the picture with ProphecyMaster, click a button and watch how twenty years can pass in seconds. ProphecyMaster is a perfect time machine that will bring you into the future with no effort.
ProphecyMaster adopts the most recent technologies in facial recognition and face transformation. The product detects a face on any picture, analyzes its facial features, and adopts sophisticated mathematical transformations to age the face twenty years. The outcome of the process are truly photo-realistic – not drawings or cartoon. It also works with old photos; you can use old pictures or scratched, black-and-white photos of yourself in the past to make sure how close to reality ProphecyMaster is.
For more information, visit http://www.luxand.com/prophecymaster/
This entry was posted on Tuesday, September 30th, 2008 at 6:42 am and is filed under Main. You can follow any responses to this entry through the RSS 2.0 feed. You can skip to the end and leave a response. Pinging is currently not allowed.