Tilgore Kraut - January 22, 2010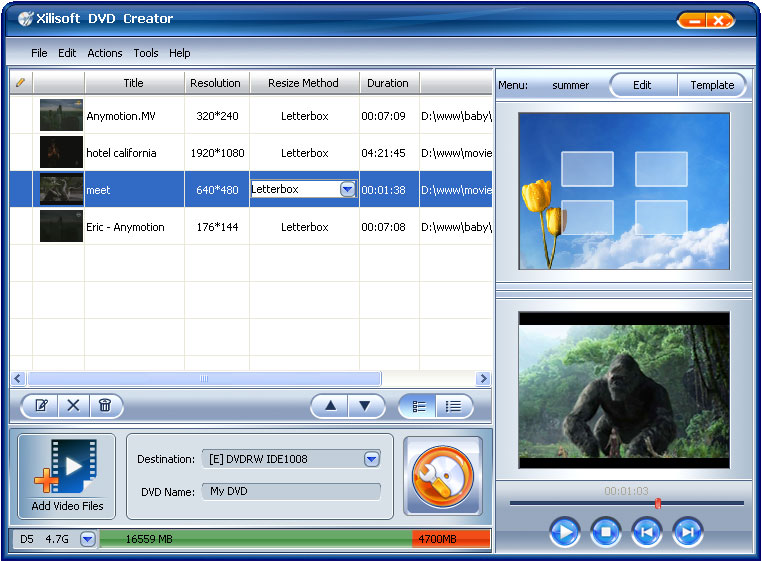 You would like to have your movie files on DVD so that you can play / view them on your DVD player. Using the Xilisoft DVD Creator program you can perform DVD creation and DVD burning operations. You can create DVD from AVI, MPEG, WMV, DivX, XviD, MP4, or H.264/AVC formats. Application supports both NTSC and PAL TV standards.
Features: The application supports very good feature to create DVD file. You can set application level preferences like general setting, video setting and menu settings. With general setting you can set language, skin and burn speed. You can perform video settings like video format, video aspect ration, resize method, video quality, skip menu, auto add chapter etc.
Add video files for which you want to burn DVD. You can see the details of video file like title, resolution; resize method, duration and path. You can add menu to your DVD file. Application provides various templates; you can use the template as per your choice. You can add background music, background picture and menu topics. Define the destination as save as DVD folder, save as image .ISO file and enter DVD name. Once all the settings are done click on "Start Burn" button (icon) to burn DVD for your video file. You can also set different action after conversion to be performed by program like no action, shut down, hibernate, standby and close application.
Overall: This is a very good program to create and burn DVD for your video files.
This entry was posted on Friday, January 22nd, 2010 at 3:26 pm and is filed under Main. You can follow any responses to this entry through the RSS 2.0 feed. You can skip to the end and leave a response. Pinging is currently not allowed.