O. James Samson - January 28, 2010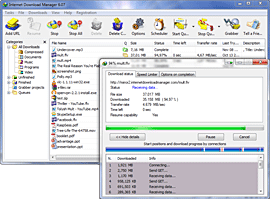 Internet download manager is a download program that takes over your download and quickens the process. Even when you are unable to complete any download, Internet Download manager continues from where it stopped and completes your download without any damage to your file.
Internet Download Manager 5.18 Build 8 increases your download speed by up to 5 times more than the normal speed and you can schedule or organize your downloads depending on how suitable it is for you. Internet Download Manager features a full-fledged site grabber that downloads files that are specified with filters.
Internet Download Manager 5.18 Build 8 supports HTTP, HTTPS, FTP and MMS protocols and is built with adaptive download accelerator for MP3 audio and MPEG Video files. Users can make use of Internet Manager to download files like: FLV Videos from YouTube, Google Video, MySpaceTV, and other popular sites.
Internet Download Manager 5.18 Build 8 is not a freeware program and it goes for $24.95 per download.
To check it out, go to InternetDownloadManager.com
This entry was posted on Thursday, January 28th, 2010 at 3:27 pm and is filed under Main. You can follow any responses to this entry through the RSS 2.0 feed. You can skip to the end and leave a response. Pinging is currently not allowed.