O. James Samson - December 29, 2010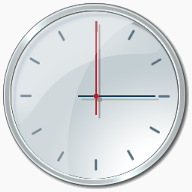 Analogue Vista Clock is one of those desktop utilities that can be used to bring your desktop by to life. This clock will help you remind all your schedules because of the alarm feature that is included in it. Analogue Vista Clock will stay on your desktop ignoring all mouse and keyboard input, in order not to interfere with any other application. You can use the tray icon to adjust and set features such as; size, positioning, transparency level, alarm hour, and a host of others.
Analogue Vista Clock can be configured to suit your taste; especially its appearance. It comes with Vista-look skins; and the options of downloading additional skins is open to registered users or even make their own skins if they want to. You can also choose from five built-in alarm sounds, but can also be used to play any file you want or even randomly play sound files from selected folder or directory. Of course there is also a feature that lets you define which days of the week alarm should be played.
Analogue Vista Clock 1.30 is a shareware program, and can be purchased and downloaded for $9.00. The program is compatible with Windows 2000/XP/2003/Vista/7.
Want to check it out? Visit 4neurons.com.
This entry was posted on Wednesday, December 29th, 2010 at 9:24 pm and is filed under Main. You can follow any responses to this entry through the RSS 2.0 feed. You can skip to the end and leave a response. Pinging is currently not allowed.