O. James Samson - October 29, 2011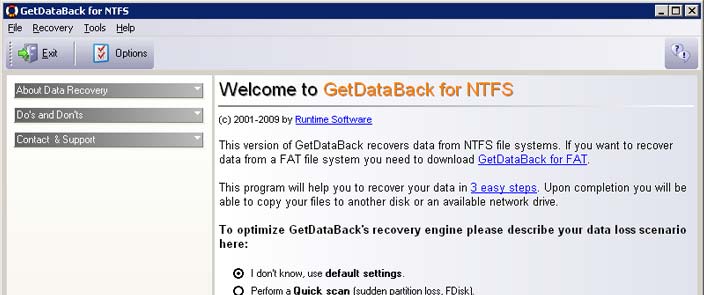 GetDataBack is an application built with features to help you retrieve your files if the hard drive's partition table, boot record, FAT, or root directory have been damaged by a virus, formatting, fdisk or power failure. The application can even recover your data when the drive is no longer recognized by Windows. GetDataBack is one of those shareware programs with lots of impressive features; and is capable of helping you recovering files even when there is a system crash or power failure.
GetDataBack for FAT has really improved over the years, and is even more popular than most programs because of the quality features included by the publishers. The advanced algorithms make sure that all directories and sub directories are put together as they were, and that long file names are reconstructed correctly. The program is read-only, meaning the program will never attempt to write to the drive you are about to recover. Users who are not experienced can also conduct their own data recovery through the program. The program also guides them through three easy to understand steps. However, if you are an advanced user, there are options to adjust the recovery process and improve the results.
Want to check it out? Visit Data Recovery Software.
This entry was posted on Saturday, October 29th, 2011 at 11:58 am and is filed under Main. You can follow any responses to this entry through the RSS 2.0 feed. You can skip to the end and leave a response. Pinging is currently not allowed.