O. James Samson - August 28, 2013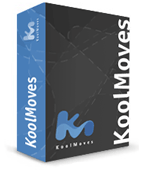 If you like to create flash movies, fill shapes with color gradients or bitmaps, or have a need to add an action to text buttons, you should consider trying the software called KoolMoves.
What is KoolMoves?
This cool web animation creator allows you to create creates Flash movies and frames for animated gifs. Create text effects, import vector clipart, attach wav audio, fill shapes with color gradients or bitmaps, add actions to text buttons and frames, plus more in just a few simple steps. it is very simple to use – both novices and professionals would attest to this.
KoolMoves has a neat and interface. You can use basic tools such as select or move objects or points, add a regular or dynamic text, import images and SWF files, as well as create an empty movie clip or button. You can also edit a frame in Action Script, add actions and sounds, zoom in and out, reposition the movie frame, view a timeline and storyboard, change the object depth, break text apart, increase the movie length, change its speed, width and height, preview it in the web browser, and more.
koolmoves.com, the publisher of this application, added the following new features to this version: Added ease in/out morphing capability for CreateJS Html5 export, Added color morphing capability for CreateJS Html5 export, Added wizard for adding animation to an existing web page for Html5 export, Added additional export options for Html5 export — save exported java script code to a separate file and save java script files to a subdirectory, Fixed draw point-by-point bug which can occur when only drawing one or two points and Fixed a rare problem when opening .fun file containing a media player object.
Downsides?
It's not free as advertised and quite pricey )full version would cost you $49).
To find out more, visit KoolMoves.
This entry was posted on Wednesday, August 28th, 2013 at 4:41 am and is filed under Main. You can follow any responses to this entry through the RSS 2.0 feed. You can skip to the end and leave a response. Pinging is currently not allowed.