O. James Samson - October 29, 2013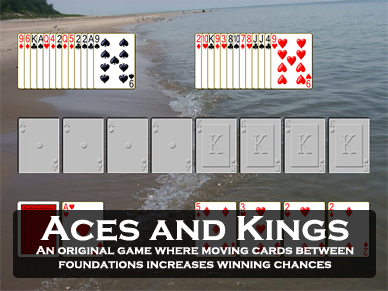 Some games are highly addictive, but not a lot of people will consider that a problem as long as they get what they want. With Pretty Good Solitaire, you can enjoy a collection of very interesting games.
What's the bid deal about Pretty Good Solitaire?
Pretty Good Solitaire is a collection of solitaire games, including classic games like Klondike, FreeCell, and Spider, to original games found nowhere else. Pretty Good Solitaire features lush graphics, large easy-to-read cards, sound, in-depth statistics, and a wizard that allows you to create your own solitaire games. You can waste your day with easy, mindless games, or difficult, strategic ones.
Pretty Good Solitaire also includes full undo and redo, statistics for multiple players, full history of all games played, selectable card backs, background colors, and images, automatic game saving, and much more. You can submit your statistics to the Web site and see how you rank against other players.
Pretty Good Solitaire contains a solitaire game for every mood you find yourself. Whether you want an easy, mindless game or an intellectual challenge, you will find it here. It also features a lush background and large easy-to-read cards that make playing solitaire a visual delight.
Any downside?
Pretty Good Solitaire has a 30 day trial limitation and full version would cost you pretty good $24.95.
Want to check it out? Visit Goodsol.com.
This entry was posted on Tuesday, October 29th, 2013 at 8:07 am and is filed under Main. You can follow any responses to this entry through the RSS 2.0 feed. You can skip to the end and leave a response. Pinging is currently not allowed.