O. James Samson - December 25, 2013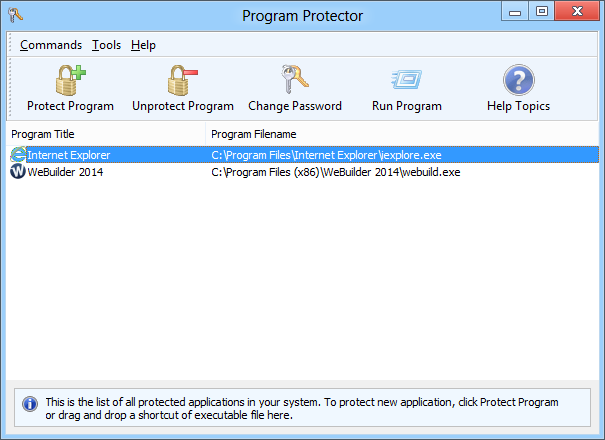 At no time has the internet been has vulnerable as it is now; not with various cases of password theft being reported virtually everyday. To check this problem, various applications are now being developed. One of the programs that can be used when it comes to protecting your password is Program Protector.
What is Program Protector?

Program Protector is a security utility which allows you to password protect any Windows application. This functionality is achieved by modifying executable file of the application, so that it requires entering valid password before program can start. It is unique because unlike other protection software, it does not run any protection programs in background to provide functionality. A couple of minor fixes and changes have been made to this version.
However, this software still retains its powerful features that include the following: password protects any Windows application; drag and drop program files and shortcuts to protect them; compatible with all programs, including Internet Explorer and Outlook Express; browse the list of protected programs; 100% protection, can't be bypassed; view protected program activity log; customize password prompt; easy to use; and a few others.
Any downside?

The only limitation of Program Protector is the "Bypass Protection" button, which lets to bypass password protection because it does not show up in full version.
Want to check it out? Blumentals.net.
This entry was posted on Wednesday, December 25th, 2013 at 1:49 am and is filed under Main. You can follow any responses to this entry through the RSS 2.0 feed. You can skip to the end and leave a response. Pinging is currently not allowed.