O. James Samson - April 29, 2014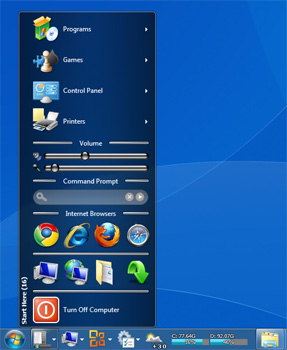 Are you looking for a shortcut manager that includes a wide range of options for helping users take full advantage of the Windows features? Then you should read more about a program called True Launch Bar.
What is True Launch?
True Launch Bar is a superior replacement for the standard Quick Launch bar. All functions presented in Quick Launch are also in True Launch Bar. However, the True Launch Bar is fully compatible with Quick Launch because it uses the same folder for shortcuts. But there is one huge difference. True Launch Bar allows you to combine your shortcuts into groups. This feature looks like popup menus. This vastly improves the management of your shortcuts and save working space on your desktop. By using True Launch Bar, you speed up the launching of your applications like never before.
True Launch Bar inserts a toolbar between the Start button and quick icons area. Through the context menu you can lock buttons, run apps with administrative privileges, find the target, create ZIP archives, open a file's location in Explorer, troubleshoot compatibility, as well as create new shortcuts, menus, separators, and a shortcut to recently accessed items.
The program has a 3o day trial limitation. Full version would cost you $19.90 for a Personal license.
Want to check it out? Visit: TrueLaunchbar.com.
This entry was posted on Tuesday, April 29th, 2014 at 12:31 pm and is filed under Main. You can follow any responses to this entry through the RSS 2.0 feed. You can skip to the end and leave a response. Pinging is currently not allowed.