O. James Samson - May 28, 2014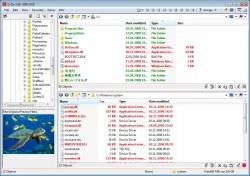 Do you want a program that can help you arrange and manage your files without stress? That program is Q-Dir because it has a lot of nice features that can save you a lot of time and even energy that can used on other things.
What is the big deal about Q-Dir?
Q-Dir makes your files and folder easy to manage. Fast and easy access, with an amazing Quadro-View technique. You don't have to renounce the usual, Drag and Drop, all Views, and other functions of your system. No! Q-Dir gives you other nice functions that make you happy. One can save many hand moves and also time.
Q-Dir (the Quad Explorer) makes your files and folder easy to manage, as an installed or portable Windows program. Fast and easy access to your hard disks, network folders, USB-Stiks, floppy disks and other storage devices.
The program is quite easy to use, and does not even take more than a few minutes for a newbie to get used to. The program runs smoothly on your system without even stressing the memory. One of the great things about Q-Dir is that it can also work very well on older systems.
Want to check it out? Visit Softwareok.com.
This entry was posted on Wednesday, May 28th, 2014 at 1:13 am and is filed under Main. You can follow any responses to this entry through the RSS 2.0 feed. You can skip to the end and leave a response. Pinging is currently not allowed.