O. James Samson - May 29, 2014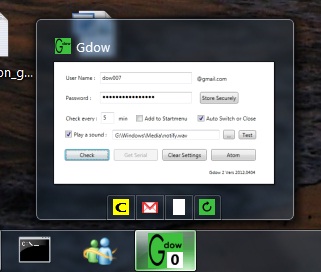 Do you want to be notified when next you receive an email from a loved one in your Gmail account? Then what you need is Gdow software, which has a lot of nice features.
What's the big deal about Gdow?
Gdow 2 is a free Gmail notifier with shareware "on the fly" inbox management capabilities. Gdow 2 uses atom feed parsing for notification and simplified Gdow 2007 engine to connect and interact with Gmail account. For now interaction includes basic "on the fly" actions: delete, spam and archive.
In terms of notification, Gdow is built with all the capabilities of your normal Gmail so that you can know what goes on with your account within a few moments of it actually happening. To make things even better and more attractive, Gdow can be used through a one-click graphical user interface or through a right click menu from its location on the system tray.
The program is absolutely easy to download and install, which makes it all the more attractive to all users. It does not take up a lot of space on your system, and does not make your computer slow especially on start up. The publisher has fixed error 'when applying an action due to Gmail change of request address.'
Does it have any downside?
A few errors have been dealt with, which makes the program more stable.
Want to check it out? Visit: gdow2.
This entry was posted on Thursday, May 29th, 2014 at 4:21 pm and is filed under Main. You can follow any responses to this entry through the RSS 2.0 feed. You can skip to the end and leave a response. Pinging is currently not allowed.