O. James Samson - May 30, 2016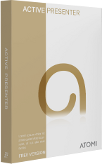 Looking for the right tool to record and upload all your presentation on the web? This free version of ActivePresenter has some basic features to help you achieve minimal results with little stress.
ActivePresenter is a tool designed for screen casting, eTraining and eLearning. With fast smart screen capture technology and a powerful authoring environment, the software includes all the tools needed to record a presentation and convert the output to video (AVI, WMV, MPEG4/MP4, FlashVideo), HTML, AJAX and Flash simulation, or document formats (PDF, DOC, PPT, XLS).
ActivePresenter is available in three editions. The Free Edition provides a simple and economic way to create a short presentation video and upload it to the web (e.g. YouTube.com). The Standard Edition on the other hand, allows reusing the already created resources from a project or imported from PowerPoint slides to create documentation in common formats (e.g. Adobe PDF, HTML, Microsoft Word, Microsoft Excel). The Professional Edition allows the creation of AJAX-based or Adobe Flash interactive tutorials and provides Microsoft PowerPoint export feature.
ActivePresenter is a feature-rich software, but this free version only boasts of limited features. You can get more features from the paid versions of the tool. To find the one that suits your needs best, go to the Atomisystems.com.
This entry was posted on Monday, May 30th, 2016 at 12:13 pm and is filed under Main. You can follow any responses to this entry through the RSS 2.0 feed. You can skip to the end and leave a response. Pinging is currently not allowed.