O. James Samson - April 23, 2008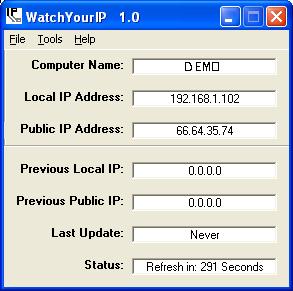 If you've been looking for an IP monitoring software that can do the job and do it really well, you may not have to look any further, thanks to WatchYourIP.
WatchYourIP as the name implies is a tool for watching your IP, monitoring changes with ease. It is the IP monitoring software that will watch your Local and Public IP addresses and monitor them for changes. The cool thing about this software is that it can be configured to email a list of users in the event of a change. So you can send out custom email messages to provide your users the correct and accurate info.
Still not sure if this is what you need, check out its features:
Monitors Local and Public IP addresses
Customizable timer
Customizable color interface
Customizable email – make it say exactly what you want
Start up when Windows starts up
Minimize to system tray – to better keep your taskbar organized and clean
Want to try it out? Go to http://www.capp-ware.com/watchyourip/
This entry was posted on Wednesday, April 23rd, 2008 at 8:37 am and is filed under Main. You can follow any responses to this entry through the RSS 2.0 feed. You can skip to the end and leave a response. Pinging is currently not allowed.