Tilgore Kraut - November 21, 2008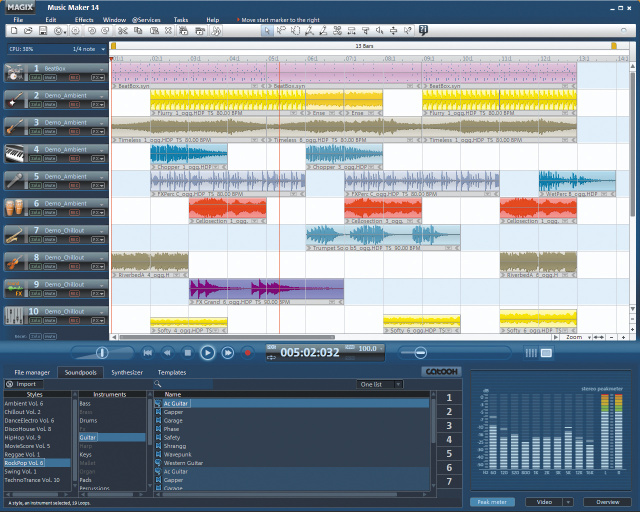 Simply create music with it. MAGIX Music Maker 14 is the perfect solution for stunning songs, experimental beats and exciting soundtracks. Produce music with MAGIX Music Maker 14, Record, edit and mix.
Pros: The application is a sophisticated tool for creating music. High quality premium sounds, virtual instruments and integrated mixing console and exclusive effects are all available for this purpose. Combine the facilities to create songs, experimental beats or a entirely new and exciting sound track. An available sound archive of 1500+ pieces of rock, pop, dance, hip-hop, disco house, techno, and chill-out as well as ambient material can be the basis of your experiments.
The tempo adjusts itself automatically making sure you'll never be out of sync with the rhythm. Instruments available create realistic sound by combining synthesized instrument sound mixed with typical play behavior of real musicians making the sound more natural. Sound library has a wide spectrum of instruments. The MIDI editor included lets you write exact melody ideas. You'll also receive more exciting synthesizers like LiViD, your own personal virtual drummer.
Studio quality effects and a large set of templates lets you make professional production of sound that you composed. Produce a perfect harmony and mix, mix the instruments at the right volume, adjust bass or the drum; they are all at your command. Of course, you can also mix your own recordings into your songs, too. Add your own recordings to the archive for future use. These can be direct recordings, imported MP3s, instrument records, songs from CDs or whatever. Cut, mix, remix, edit and add effects to get just the right results you are looking for. Direct loading to online portals eases publishing of your work. Access to Catooh, one such content library portal is integrated into the application.
Cons: You need to be aware of how exactly the steps in composing music work to make optimal use of the application.
This entry was posted on Friday, November 21st, 2008 at 8:23 am and is filed under Main. You can follow any responses to this entry through the RSS 2.0 feed. You can skip to the end and leave a response. Pinging is currently not allowed.