Tilgore Kraut - April 29, 2009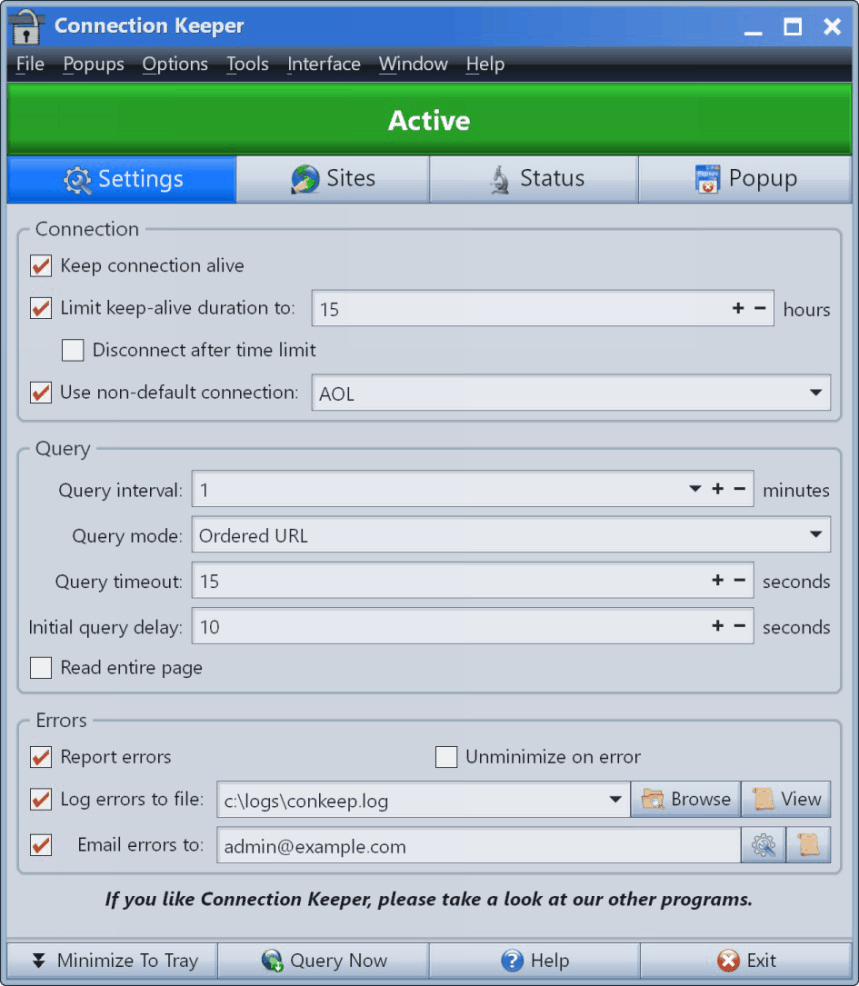 A free program that makes sure your ISP won't drop your internet connection due to inactivity. Connection Keeper can also be set up to automatically close those annoying pop-up windows.
Features: Connection Keeper can save time for dial up internet users. ISPs tend to drop the connections if it has been idle for a while. You then have to go through the hassle of connecting to the ISP all over again. It simulates internet browsing at random time intervals It can take care of a lot of pop up windows that come up quite often. A pop up that asks you if you want to stay connected, for example. The utility will click yes to such pop up windows and keep you going. Despite all that, if the connection is actually lost, the connection keeper will dial in to the ISP automatically again.
There are several ways you can set up the closing of the pop ups. These include simulated button click, simulated keystrokes or by sending a Window message. It can be minimized to stay on the system tray and not clutter up your task bar. It uses very little resources and takes very little bandwidth. The times at which the connection simulator becomes active can be set. Alternately you can set the interval to be random. The connection keeper can simulate the activities as if it were accessing a real URL or a bogus one.
The periodic access feature of the utility can be used to monitor a website. Errors are reported as a pop up window or by emails. Command line parameters can be set to close up windows, check for existence of a particular file and to download web pages. When checking the status of a file, errors will be reported if there is actual problem So that can be a way of checking if everything is ok with the network when your machine boots up. Similarly errors when accessing an URL can tell you if the site's ok when you boot up your machine.
Overall: The utility works well and maintain connections.
This entry was posted on Wednesday, April 29th, 2009 at 3:25 am and is filed under Main. You can follow any responses to this entry through the RSS 2.0 feed. You can skip to the end and leave a response. Pinging is currently not allowed.