O. James Samson - May 29, 2010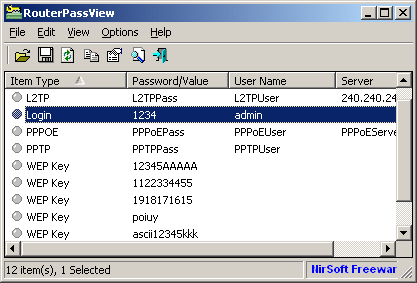 RouterPassView is utility tool that allows users to backup the configuration of the router into a file, and restore the configuration from the file when it is needed. The backup file of the router most of the time contains important data such as ISP user name and password, the login password of the router, and wireless network keys. In case a user happens to have lost one of these password or keys, but he still has a backup file of his router configuration, RouterPassView might help such a user to recover the lost password from your router file.
RouterPassView supports the following number of router models; NETGEAR WGT624, and possibly similar models, Dynalink RTA1025W, and possibly similar models, Siemens ADSL SL2-141, and possibly similar models, Edimax BR6204WG, and possibly similar models, Linksys WRT54GL, and possibly similar models, ASUS WL-520g, and possibly similar models, COMTREND 536+ (Only Internet Login), US Robotics 9108 ADSL (internet login and admin login), D-Link DSL-2540U/BRU/D ADSL2+.
RouterPassView is very easy to use because it does not require any installation process or additional DLL files. You can start using it simply by running the executable file – RouterPassView.exe. Once you have finished running RouterPassView, then the next stage will be to open your router configuration file by using 'Open Router Configuration File' option (Ctrl+O) or by dragging the configuration file from Explorer into the main window of RouterPassView.
Want to check it out? Visit Nirsoft
This entry was posted on Saturday, May 29th, 2010 at 9:05 am and is filed under Freeware, Main. You can follow any responses to this entry through the RSS 2.0 feed. You can skip to the end and leave a response. Pinging is currently not allowed.