Ciaran Moore - July 7, 2010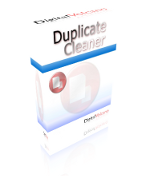 Computer hard drive these days offer huge storage capacity to contain everything you want to save; from the most important documents to your memorable pictures and videos. While most users don't seem to care about the amount of files they're copying onto their hard drive, filling up a huge disk space can happen faster than you'd think – and one reason is duplicate content. This problem is can be very difficult to solve especially if your drive is almost full. Basic searching for duplicate content won't do any good either. Well if you desperately need a good solution to this problem – try duplicate cleaner.
Duplicate cleaner scans your computer to save disk space occupied by these useless content duplicates. It offers a wide range of features when it comes to scanning for duplicate contents on your hard drive. The display window is simple but very concise. No special icons or images, just a plain window. Menus and display grids areas are provided so that even beginners can use the program conveniently. The display grid is also very informative as filename and file location are displayed.
Deeply scan your hard drive for duplicate content, then remove them – that's the program's main mission. It provides one of the fastest performance of scanning for duplicate contents on your drive. It scans accurately and quickly because of its MD5 Hash algorithm. The program also offers great flexibility as you have the option on what particular file type to recover; pictures, videos or word documents. This feature will save you a lot of time by narrowing its search parameter. The core functionality of the program lies on its thorough searching of files including its content and not just its filename.
Next is the program's capability to even scan network drives,this is very important to save disk space on a network's shared drive. Other features worth commending includes an image preview window which allow users to have an image preview of the files with duplicate contents. There's no need for user to navigate away from the program just to browse a file. The program also has multiple language support.
Duplicate Cleaner is recommended for both typical and advanced users that are having problems with duplicate contents that are cluttering up their hard drive. Its fast and accurate performance is perfect to cater for most needs. And on top of that, its free.
You can download free Duplicate Cleaner at DigitalVolcano
This entry was posted on Wednesday, July 7th, 2010 at 8:00 am and is filed under Main, Utilities. You can follow any responses to this entry through the RSS 2.0 feed. You can skip to the end and leave a response. Pinging is currently not allowed.