O. James Samson - August 26, 2010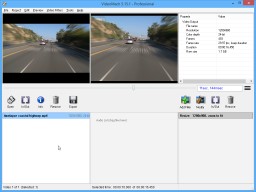 This shareware is designed to convert image sequences from high-speed imagers, 3D renderers, time-lapse photography, stop-motion animation and screen capture applications to video. VideoMach 5.7.4 is also capable of converting AVI, Bayer, Vision Research/Phantom, HAV, GIF, CINE, FLI/FLC, JPEG, JPEG-2000, MPEG, OGV RGB, Targa, TIFF, WMV, WMA, AC3, OGG, XPM, and many other multimedia formats.
Other important uses of this program include; cropping of unwanted borders, resizing, rotating, color fixing, rotating and applying numerous filters, and others. Users also have the benefits of enjoying features that allow them arrange video matrices to display several videos in parallel, clean up noisy dark videos to read license plates, speed up or slow down videos (just like in Television commercials), overlay text and logos, among others.
VideoMach 5.7.4 is not a freeware, but users can afford to download it at $25.00 per software. Actually, this is a fair price to pay because of the numerous features included in this version. As a matter of fact, the publishers have gone ahead to include some new features in this version in review. These features include; fixing of FLIC encoder produced invalid data for large images, fixing of issue relating to distorted picture after free rotate when source file is 8-bit, among others. VideoMach 5.7.4 also comes with an uninstaller.
Want to check it out? Visit Gromada
This entry was posted on Thursday, August 26th, 2010 at 1:30 pm and is filed under Main. You can follow any responses to this entry through the RSS 2.0 feed. You can skip to the end and leave a response. Pinging is currently not allowed.