O. James Samson - April 28, 2011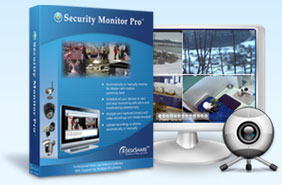 Security Monitor Pro is a nice piece of application or program for complex security problems. It is created with features to help you monitor and record from multiple cameras simultaneously, create continuous video recordings, and view multiple cameras in a single window. Each camera has its own individual monitoring and recording settings. When motion is detected, Security Monitor Pro can send email or SMS (cell phone) alerts, record audio and video, and/or sound an audible alarm. In addition, the software maintains a detailed event log. This version has been created to work or be compatible with Windows 7. The latest changes or updates include the following; 16 simultaneous IP cameras, preview all cameras on one screen, multiple masks per zone, support for over 600 IP cameras, and hidden/stealth mode.
You can install and configure Security Monitor Pro to monitor for motion at set times, on particular days of the week. The program can also automatically upload recorded video and photos to an FTP server for backup or remote viewing on a web-site. With Security Monitor Pro, you can also do the following; use IP cams (Ethernet or Wireless), USB cams and even analog CCTV (via converter), enjoy the most extensive support for camera models – over 1,000 and counting, control up to 16 camera feeds, simultaneously, and many more.
Want to check it out? Visit Deskshare.
This entry was posted on Thursday, April 28th, 2011 at 8:29 am and is filed under Main. You can follow any responses to this entry through the RSS 2.0 feed. You can skip to the end and leave a response. Pinging is currently not allowed.