O. James Samson - November 21, 2012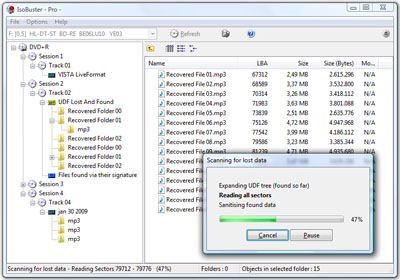 How many times in the past have you lost some important and personal files just because of a badly trashed CD or DVD? This happens to a lot of people most of the time; but it doesn't have to continue if you install IsoBuster.
What is IsoBuster?
IsoBuster can rescue lost files from a bad or trashed CD or DVD or a Blu Ray disc (e.g. BD or HD DVD). Save important documents, precious pictures or video from the family, your only system backup, and many more.
A program like IsoBuster gives you almost 100% guarantee on your files, which may not be possible if you choose to write them on your CD or DVD. It is a powerful file and data recovery tool that can help you retrieve your priceless data and give you some peace of mind next time you make an important backup.
With IsoBuster, you can recover data from the following; CD, DVD, BD, HDD, Flash drive, USB stick, media card, SD and SSD with IsoBuster. IsoBuster also supports all optical disc formats, Hard Drives, Memory cards, Flash disk formats and all common file-systems: NTFS, UDF, FAT and a host of others.
This new version of IsoBuster now supports Flash drives, Memory cards of all sorts and makes, Jaz, and many more.
Downside
Perhaps, the publisher should give users the option of choosing to install or deselect their toolbar.
Want to check it out? Visit ISObuster.
This entry was posted on Wednesday, November 21st, 2012 at 10:41 pm and is filed under Main. You can follow any responses to this entry through the RSS 2.0 feed. You can skip to the end and leave a response. Pinging is currently not allowed.