O. James Samson - November 17, 2014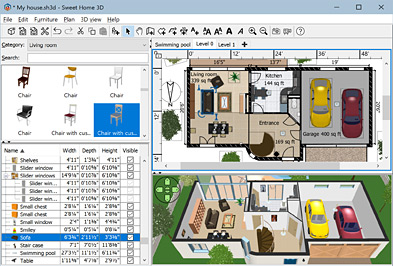 Are you looking for a free application that offers you wonderful features that give you opportunity to place your furniture on a house 2D plan, with a 3D preview? With wonderful features including the one that lets you add furniture to the plan from a searchable and extensible catalogue organized by categories such as kitchen, living room, bedroom; you should consider Sweet Home 3D.
What is Sweet Home 3D?
Sweet Home 3D is a free interior design application that helps you place your furniture on a house 2D plan, with a 3D preview. The program has a lot of amazing features despite being a freeware. When you consider the quality of features included in the software, you will appreciate the quality of work that has been put into it by the publisher. You can change colour, texture, size, thickness, location and orientation of furniture, walls, floors and ceilings.
Other features in Sweet Home 3D include the following: annotate the plan with room areas, dimension lines, texts and show the North direction with a compass rose; create photorealistic images and videos with the ability to customize lights and control sunlight effect according to the time of day and geographic location; and many more.
Does it have any downside?
It may not have the best interface, but it is a great program overall.
Want to check it out? Visit SweetHome3D.com.
This entry was posted on Monday, November 17th, 2014 at 1:25 pm and is filed under Main. You can follow any responses to this entry through the RSS 2.0 feed. You can skip to the end and leave a response. Pinging is currently not allowed.