O. James Samson - March 18, 2015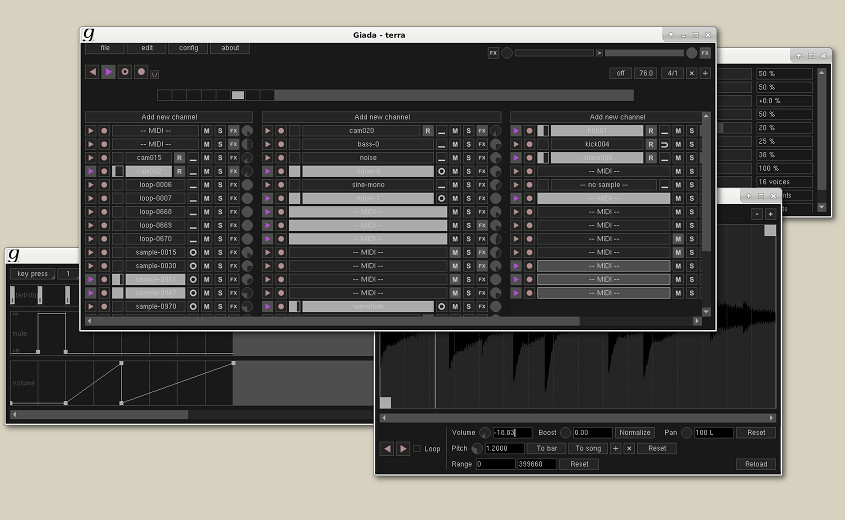 Are you a DJ, and would love some amazing and really great tools to enhance your ability in the studio? Have you tried Giada? The program is one of the most advanced free applications to enhance your ability. You can load up to 32 samples, and also choose to play every one of them in single mode.
What's the big deal about Giada?
Giada is a free, minimal, hardcore audio tool for djs and live performers. Load up to 32 samples, choose to play them in single mode (drum machine) or loop mode (sequencer) and start the show with your computer keyboard as a controller.
With lots of great features that can enhance your skill, Giada is the perfect tool to work with as a DJ. Some of its features include the following: 32 bit floating point audio engine, sample-accurate looping system, multithread support; it allows you to tweak your sounds with the live sampler from external sources, the live quantizer, a built-in wave editor, the action recorder and the action editor; Giada is able to load VST and VST instruments, as well as read/write MIDI messages from/to any device out there, both hardware and software; and is of course a freeware.
Want to check it out? Visit: Giadamusic.com
This entry was posted on Wednesday, March 18th, 2015 at 2:24 am and is filed under Main. You can follow any responses to this entry through the RSS 2.0 feed. You can skip to the end and leave a response. Pinging is currently not allowed.