O. James Samson - November 23, 2015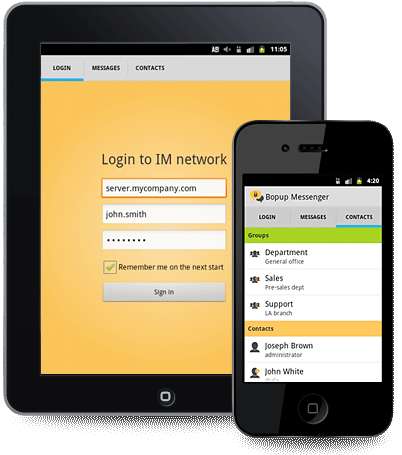 Communication within a business environment is vital. Without sound communication, much can't be achieved. However, with a sound communication tool, achieving office tasks become very easy and smooth. An application like Bopup Messenger connects you and your colleagues at work with so much ease.
Bopup Messenger is a secure instant messenger designed to communicate over LAN and enterprise-size networks. This clear, easy to use and light-weight IM client offers a set of corporate features and answers most of the business needs you may have. With this messenger you can easily unite users from all other offices and locations to one IM workspace and exchange files and documents, urgent, extended messages with links, font and color formatting, graphic emotions.
With Bopup Messenger, you can easily organize your personal contact list which is accessible to you from any workplace and see who is online from your contacts and available to communicate. Several authentication modes are supported: Simple, Windows Authentication or private login ID and password pair.
A few updates have also been made to this version to include; added support for IPv6 protocol, and fixed possible issue with disconnection on messenger startup if network bandwidth is slow.
Bopup Messenger has a 45-day trial limitation for new users. You can learn more about pricing options here.
Want to check it out? Visit Bopup.com.
This entry was posted on Monday, November 23rd, 2015 at 11:31 am and is filed under Main. You can follow any responses to this entry through the RSS 2.0 feed. You can skip to the end and leave a response. Pinging is currently not allowed.