O. James Samson - August 15, 2016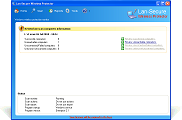 Having issues on your organization's network and hoping you could sort things out by using some network software? Wireless Protector Workgroup acts as a server to all protected computers in your network.
Wireless Protector automatically disables wireless and other devices on computers connected to your company's network by LAN cable. It also re-enables the devices when the LAN cable is disconnected from the protected computers.
The software powerful engine can run as windows program or windows service and protect any number of computers by installing a remote service over them. Wireless Protector Workgroup also monitors the protected computers for active wireless auto switch protection. The software supports Windows or Mac-OSX operating systems and can protect the following devices; Bluetooth, Firewire, Infrared, Modems, Portable Wireless Phones, Removable USB and Wireless 802.11 and Broadband (3G / 4G / WiMax) network devices.
Wireless Protector Workgroup has a lot of features that keep your devices and network protected. A few of these features include; disables wireless when wired, disables wireless when docked, disables wireless when on LAN, disables Wi-Fi when LAN connected, disables wireless when cable connected, disables wireless when ethernet detected, and many more.
Wireless Protector Workgroup has a 30-day trial period. Full version starts from $99.00.
Want to check it out? Visit: Lan-Secure.
This entry was posted on Monday, August 15th, 2016 at 10:29 am and is filed under Main. You can follow any responses to this entry through the RSS 2.0 feed. You can skip to the end and leave a response. Pinging is currently not allowed.