O. James Samson - August 24, 2016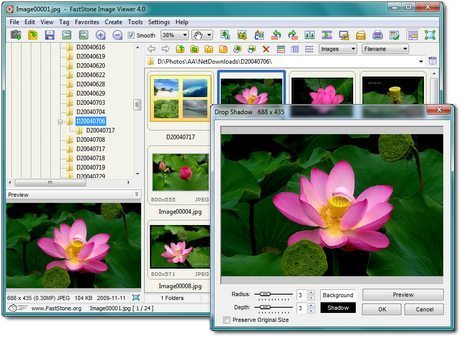 Some software get better the more often they get updated—that is a description that suits FastStone Image Viewer. It is a program that works as an image browser, viewer, converter and editor.
FastStone Image Viewer is an image browser, viewer, converter and editor with an easy to use interface and a nice array of features that include resizing, renaming, cropping, color adjustments, watermarks and more. It also includes an intuitive full-screen mode that provides quick access to EXIF information and thumbnail browser via hidden toolbars that emerge when you touch the edge of your screen with the mouse.
FastStone Image Viewer also boasts of some other nice features such as high quality magnifier and built-in slideshow with 60+ transitional effects, as well as lossless JPEG transitions, drop shadow effects, image frames, scanner support, histogram and much more. The software supports all major graphic formats including BMP, JPEG, JPEG 2000, GIF, PNG, PCX, TIFF, WMF, ICO and TGA.
FastStone Image Viewer has improved significantly since it first hit the spotlight. Version 5.7 just goes to show how good the program is against some other software online. It doesn't have any downside.
Want to check it out? Visit Faststone.org.
This entry was posted on Wednesday, August 24th, 2016 at 5:27 pm and is filed under Main. You can follow any responses to this entry through the RSS 2.0 feed. You can skip to the end and leave a response. Pinging is currently not allowed.