O. James Samson - August 25, 2016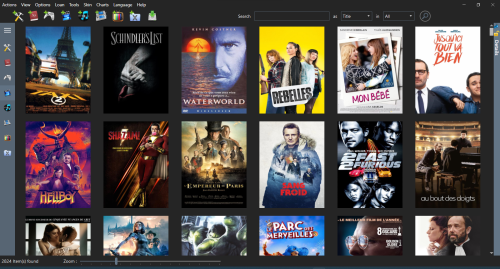 Do you want to have all your apps, books, games, music and movies in one place? MyCollections is a program that can catalog and manage all your numeric collections; and it doesn't require much technical skills.
myCollections will help you to catalog and manage all your numeric collections. Using just a title or a barcode you will be able to collect a lot of item details of your collections from the internet. It is also able to find contents automatically from your hard drive. It will ensure that you do not lose a book because you have lent it to someone, that you never forget what a movie is all about, that you can easily locate that album you want to listen to, and more. It is the perfect tool to catalog Applications, Books, Games, Music, Movies, TV show or Adult contents, into the same and unique tool.
Current version of myCollections has been updates to include some nice features including: addition of Spotify Music provider; addition of AutoRename Functionality; improved TMDB provider; improved SugarVod Provider; improved AlloCine provider; and improved AdultDvdEmpire Provider.
myCollections easily helps you to organize your music collection.
Want to check it out? Visit MyCollections.fr.
This entry was posted on Thursday, August 25th, 2016 at 9:31 pm and is filed under Main. You can follow any responses to this entry through the RSS 2.0 feed. You can skip to the end and leave a response. Pinging is currently not allowed.