Ciaran Moore - July 4, 2008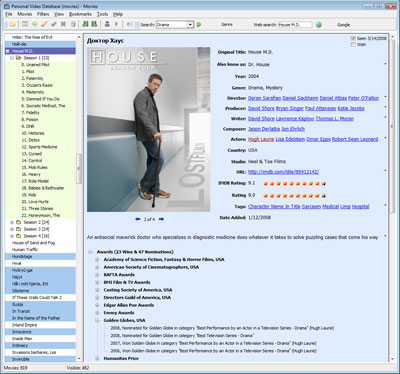 Got a large movie collection you want to keep track of ? With Personal Video Database you'll be able to do that quickly and easily. The well thought-out user interface and assorted database management functions make it simple to make and manage even large movie databases.
It has powerful filtering, grouping and sorting that will assist you in finding your movies in no time. The program is expandable with plugins and there is already a batch of plugins that come with with the program that can help you call up movie info from various Internet movie databases or other database types.
Another noteworthy features is Loan management, handy for keeping track of those movies you loan to friends and sometimes forget about!
All in all, it makes for a powerful and dependable relational database of your movies and the people related with them, such as actors, directors, etc. It seems to be well supported with an active forum, where the developer pays attention to users.
Oh yeah, its free too! You can get it from the homepage here.
This entry was posted on Friday, July 4th, 2008 at 9:53 am and is filed under Information Management, Main, Multimedia, Video. You can follow any responses to this entry through the RSS 2.0 feed. You can skip to the end and leave a response. Pinging is currently not allowed.